Bio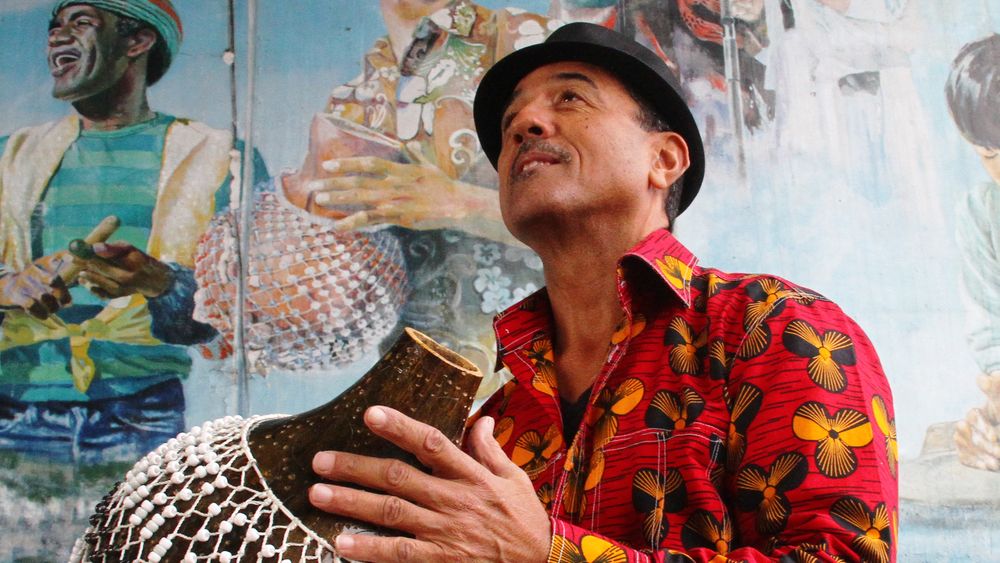 Seven-time Grammy-nominated percussionist, US Artists Fontanals Fellow, and 2013-2014 SFJAZZ Resident Artistic Director, John Santos, is one of the foremost exponents of Afro-Latin music in the world today.
Born in San Francisco, California, November 1, 1955, he was raised in the Puerto Rican and Cape Verdean traditions of his family, surrounded by music. The fertile musical environment of the San Francisco Bay Area shaped his career in a unique way.
His studies of Afro-Latin music have included several trips to New York, Puerto Rico, Cuba, Brazil and Colombia. He is known for his innovative use of traditional forms and instruments in combination with contemporary music, and has earned much respect and recognition as a prolific performer, composer, teacher, writer, radio programmer, and record/event producer whose career has spanned five decades. John has performed and/or recorded with acknowledged, multi-generational masters such as Cachao, Dizzy Gillespie, Tito Puente, Bebo Valdés, Max Roach, Eddie Palmieri, Patato Valdés, Lázaro Ros, Bobby Hutcherson, Manny Oquendo, Chucho Valdes, Paquito D'Rivera, Buenavista Social Club, Chocolate Armenteros, John Handy, Billy Cobham, Zakir Hussain, Hermeto Pascoal, George Cables, Generoso Jimenez, Joe Henderson, Ernesto Oviedo, Regina Carter, Chester Thompson, Francisco Aguabella, John Faddis, Ed Thigpen, Giovanni Hidalgo, Steve Turre, McCoy Tyner, Batacumbele, Poncho Sanchez, Omar Sosa, Mel Martin, Ignacio Berroa, Danilo Perez, Los Pleneros de la 21, Jose Luis "Changuito" Quintana, Armando Peraza, Pancho Quinto, Tootie Heath, Art Farmer, Pupy Pedroso, Jacqueline Castellanos, Malonga Casquelord, CK Ladzekpo, Pancho Terry, Juan De Dios Ramos, Carlos Aldama, Yosvany Terry, Dafnis Prieto, Oscar Castro Neves, Mark Murphy, Orkestra Rumpilezz, Larry Coryell, Lázaro Galarraga, Regino Jimenez, Luis Daniel "Chichito" Cepeda, Modesto Cepeda, Guillermo "Negro" Triana, Lázaro Rizo, Raul "Lali" Gonzalez, Amado DeDeus, Pedrito Martinez, Jose Lugo, Jerry Medina, Orestes Vilató, Kamau Daaood, Johnny Rodriguez, Sonny Bravo, Arturo Sandoval, Nestor Torres, Anthony Carrillo, Paoli Mejías, Raul Rekow, Andy Gonzalez, Jerry Gonzalez, Jovino Santos Neto, Lalo Schifrin, Gema y Pavel, Pete Escovedo, Claudia Gómez, Maria Márquez, Jon Jang, Wayne Wallace, Mark Levine, Elio Villafranca, Bruce Forman, Linda Tillery, Charlie Hunter, Joyce Cooling, Bobby Matos, Mark Weinstein, Roberto Borrell, Sandy Perez, Jesus Diaz, Roman Diaz, Pablo Menendez y Mezcla, Yma Sumac, Rhiannon, Larry Vukovich, Kenny Washington, Faye Carol, Kellye Gray, Destani Wolf, Kimiko Joy, Kenny Endo, Abhijit Banerjee, Erik Jekabson, and Carlos Santana, among others.
John is widely respected as one of the top writers, teachers and historians in the field and was a member of the Latin Jazz Advisory Committee of the Smithsonian Institution. He is currently part of the faculty at the California Jazz Conservatory (Berkeley, CA), San Francisco State University, Jazz Camp West (since 1986) and the College of San Mateo (CA). He has conducted countless workshops, lectures and clinics in the US, Latin America and Europe since 1973 at institutions of all types including the Smithsonian, the Adventures in Music program of the San Francisco Symphony, the Berklee School of Music in Boston, UCLA, Yale, Stanford, the University of Wisconsin at Madison, the University of Michigan, Temple University, Brigham Young University, Cal State Monterey Bay, Cal State Hayward, Cal State Fresno, the University of Colorado, Yakima Valley Community College, Ohio Music Education Association, the Afro-Cuban Drumming and Dance Program at Humboldt State University (CA), Cal State Sonoma, Cal State Sacramento, Cal State San Jose, Tulane and Dillard Universities of Louisiana, Jazz Camp West, the San Francisco Conservatory of Music, the Los Angeles Music Academy, the Museum of the African Diaspora (San Francisco), the Lafayette Summer Music Program (CA), the Oakland Public Conservatory, and La Universidad Inter-Americana in San Germán Puerto Rico. He has contributed to the international magazines and publications African Arts Journal, Poetry in Flight, Percussive Notes, Modern Drummer, Modern Percussionist, and Latin Percussionist.
John was the director of the Orquesta Tipica Cienfuegos (1976-1980) and the award-winning Orquesta Batachanga (1981-1985). He was founder and director of the internationally renowned, Grammy-nominated Machete Ensemble (1985-2006), with whom he released nine CDs with special guests from Puerto Rico, Cuba, NY, Los Angeles, and San Francisco, mostly on John's Machete Records label that was founded in 1984 and continues today. He currently directs the highly acclaimed John Santos Sextet Latin jazz ensemble with six full-length CDs under their belt to date.  John has also produced four full length CDs with his Afro-Caribbean Folklóric Ensemble, El Coro Folklórico Kindembo since 1994, two of which were Grammy-nominated.
The San Francisco Bay Area community in which John still lives and works has presented him with numerous awards and honors for artistic excellence and social dedication. John received the Community Leadership Award from the San Francisco Foundation in 2011. He was presented with the San Francisco Latino Heritage Award in 2012 that included a Certificate of Honor signed by Mayor Edwin Lee, and Certificates of Recognition from the State Assembly, a Certificate of Recognition from the State Senate, and a Certificate of Special Congressional Recognition from the US House of Representatives. He was also selected for the Man of the Year Award by Brothers on the Rise (Oakland, CA) in 2013. A photo of John from 1987 by pioneering Puerto Rican photographer/activist Frank Espada hung in the National Portrait Gallery of the Smithsonian Institution in Washington DC in 2016-2017!
John's work has also been recognized and supported by the Monterey Jazz Festival (2002), the Smithsonian Institution, the California Arts Council, United States Artists, the Zellerbach Family Fund, the Fund for Folk Culture, the Ford Foundation, the William and Flora Hewlitt Foundation, the East Bay Community Foundation, the National Association of Latino Arts and Culture, the Creative Work Fund, and the City of Oakland. The City of San Francisco issued a mayoral proclamation declaring November 12, 2006 John Santos Day. He was featured prominently in the PBS American Masters documentary, Cachao: Uno Mas (2008), and is the subject of another documentary by Searchlight Films (Oakland, CA), which made its world premiere at the fabled South by Southwest Festival in Austin, Texas in March of 2022.
John is an advisory board member of the Afro Latin Jazz Alliance (NY), Living Jazz (Oakland, CA), and the Oaktown Jazz Workshop (Oakland), and a Trustee of SFJAZZ.